Yes, I am a little past
the middle of the muddle
in our kitchen renovation job, but only a little. We still have a long way to go, but, with the help of my sweet niece Sarah and our kind neighbour Brian, we are moving right along.
The wall paper was THE WORST stuff to get off, but Sarah won the battle yesterday and got the last bits of glue to let go. Yahoo!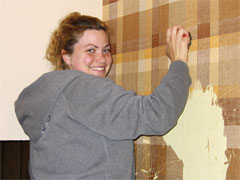 Sarah is painting today, and even though that is hard work, it is going much smoother and faster than the scraping the wall paper phase went.
I sure don't have much time to relax and write these days, but will be back soon.
Talk to you all later.